EduLite Journal of English Education, Literature and Culture is an international which publishes manuscripts within the fields of teaching English as a first, second or foreign language, English language teaching and learning, English language teachers' training and education, English language and literary studies, literature, and cultures in general. It is published by Language and Communication Science Faculty (former Language Faculty), Universitas Islam Sultan Agung twice a year in the months of February and August (P-ISSN: 2477-5304, E-ISSN: 2528-4479); The article submission, as well as the review process, are not subject of any charge (FREE), but the publication fee (ONLY if published). EduLite has been indexed in DOAJ (Directory of Open Access Journals) since 31 July 2017, EBSCO and some credible indexers.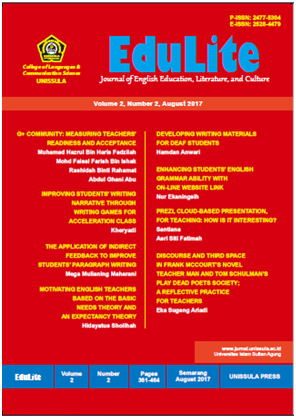 EduLite has been indexed in:
Submit your precious manuscripts now (in English) via our online system, or submit your papers via email: reviews_edulite@unissula.ac.id (ONLY IF you still got some problems in OJS submission). Download the Author Guideline and the EduLite format and style (template) here.
Registration and login are required to submit items online and to check the status of current submissions.
Already have a Username/Password for EduLite?
Need a Username/Password?
data:image/jpeg;base64,/9j/4AAQSkZJRgABAQAAAQABAAD/2wCEAAkGBw8SDxMQERIQEBUQEBUVEBUPFhEQEBAQFRYYFhURFxUYHCkgHRonHRYVLTEhJTUuLi8uGCAzODMuNygtLisBCgoKDg0OGxAQGy8mICUtKy0rKy8tNTEvLS0tKy8vLzUwLS0uKy0tKy8tLS0rKyswLy0tLS0tLS0tLS8tLS0uLf/AABEIAI8BYAMBEQACEQEDEQH/xAAbAAEAAgMBAQAAAAAAAAAAAAAABQYBAgQDB//EAEUQAAEDAQQHBQUGAgcJAAAAAAEAAgMRBBJRkQUGExQhMVIVFkFhcQcigaHBMjNyc7GyNNEkQkNUgpLwIyU1U4Sis8Ph/8QAGgEBAAIDAQAAAAAAAAAAAAAAAAQFAQMGAv/EADYRAAEDAQQHBwQCAwEBAQAAAAABAgMRBBIUkQUTITFRUnEVM0FhgbHBMqHR8CM0IuHxgmJC/9oADAMBAAIRAxEAPwD7igCAIDFUAqgFUAqgFUAqgFUAqgFUAqgFUAqgFUAqgFUAqgFUAqgFUAqgFUAqgFUAqgFUAqgFUAqgFUAqgFUAqgFUAqgFUAqgFUBlAEAQBAEAQGpKA8nyoDwdaggPM2wIDG+BAN8CAb4EA3wIBvgQDfAgG+BAN8CAb4EA3wIBvgQDfAgG+BAN8CAb4EA3wIBvgQDfAgG+BAN8CAb4EA3wIBvgQDfAgG+BAN8CAb4EA3wIBvgQDfAgG+BAN8CAyLYEB6NtQQHuyVAeoKA2QBAEBq4oDlnmogIe2aQArxQIlSCl0+0mjbz/AMAJGfJRHW2Fq0rXoT2aNtDkqqU6rQ8Tph/RJksY+LzyPXZk3FMzHa7+iTJYx8XnkOzJuKZjtd/RJkmPi88h2ZNxTMdrv6JMkx8XnkOzJuKZjtd/RJkmPi88h2ZNxTMdrv6JMkx8XnkOzJuKZjtd/RJkmPi88h2ZNxTMdrv6JMkx8XnkOzJuKZjtd/RJkmPi88h2ZNxTMdrv6JMkx8XnkOzJuKZjtd/RJkmPi88h2ZNxTMdrv6JMkx8XnkOzJuKZjtd/RJkmPi88h2ZNxTMdrv6JMkx8XnkOzJuKZjtd/RJkmPi88h2ZNxTMdrv6JMkx8XnkOzJuKZjtd/RJkmPi88h2ZNxTMdrv6JMkx8XnkOzJuKZjtd/RJkmPi88h2ZNxTMdrv6JMkx8XnkOzJuKZjtd/RJkmPi88h2ZNxTMdrv6JMkx8XnkOzJuKZjtd/RJkmPi88h2ZNxTMdrv6JMkx8XnkOzJuKZjtd/RJkmPi88h2ZNxTMdrv6JMkx8XnkOzJuKZjtd/RJkmPi88h2ZNxTMdrv6JMkx8XnkOzJuKZjtd/RJkmPi88h2ZNxTMdrv6JMkx8XnkOzJuKZjtd/RJkmPi88h2ZNxTMdrv6JMkx8XnkOzJuKZjtd/RJkmPi88h2ZNxTMyNMP6JMlnHxeeQ7Mm4pmdMOmuoPaMXA0z5Bem2yJ3jTqa36Pnb4IvRfgmrHpAGnFSiEuwmIJqoDqaUBsgCA8ZnICD0laaIChaW0gZXloPuNP+YjxPkqO22pXrcbuT7nTaNsKRNSR/1L9k/PHIzY5Q0YKC1aFhI1VU6N9biF7vmrVKN9biEvjVKN9biEvjVKN9biEvjVKN9biEvjVKN9biEvjVKN9biEvjVKN9biEvjVKN9biEvjVKN9biEvjVKN9biEvjVKN9biEvjVKN9biEvjVKN9biEvjVKN9biEvjVKN9biEvjVKN9biEvjVKN9biEvjVKN9biEvjVKN9biEvjVKN9biEvjVKN9biEvjVKN9biEvjVKN9biEvjVKN9biEvjVKN9biEvjVKN9biEvjVKN9biEvjVKN9biEvjVKN9biEvjVKN9biEvjVKN9biEvjVKN9biEvjVKN9biEvjVKdFltorzC9tea5IlOutz/aM4Nr77fAV/rD6541n2ae4tF3L9v3xzKy1WfWJX/9J9/Lrwy6WLRtpqFalKTcLkB7IDBQHHa3cEBTdZrUWxuI50oPU8K/NaLS+5E5xKsUSSTtavH22lQiC5tTskD3V+HJDyarICAIAgCAIAgCAIAgCAIAgCAIAgCAIAgCAIAgCAIAgCAIAgCAIAgCAIAgN4pC01CwFSuwslhlqKHiCKHzBUmNaoV8raLVDv0FMaUP9Ulp87ppX5K8s778aKv7TYc9a40ZM5E3b89pbbK7gtxGOwIA5AR9tPBAUPWs+5/iH6qHbu5X0LHRX9lOilfiXPrvOq8DRejAQBAEAQBAEAQBAEAQBAEAQBAEAQBAEAQBAEAQBAEAQBAEAQBAEAQBAEAQBATujTwHotkZEm3khod3vv8AzCruxd16qc/pLvvRC5WI8FLIBINQByAjrdyQFD1p+yfUfqFEt3cr6Fhov+ynRfYgIlzy7zq/A0XoBDAQHTYdHzTEtiYZC0VIbTgOVeJXtkT5FoxKmuWaOJKvWh292rd/d35s/mtmEn5F+35NGPs3On3/AAYOrdu/u8n/AGn9CmEn5V+wx9m50I+02aSN12Rj4zg8FppjxWlzXNWjkoSWSNelWqip5HksHoIAgCAIAgCAIAgJHsG13NpsX3Ll+9VtLlK3ueC3YaWl67s9CNjIL1y8la09SOWkkhASFj0JapWCSOJz2mtCLtDQ0PM4rayzyvS81tUI8lrhjdde6innbtFWiEAyxujDjQF1KE86cCsSQyR7XpQ9RWiKVaMdU41rNxLd2rd/d35s/mpGEn5V+35ImPs3On3/AAR9rsskTzHI0sc2lQaVFRUcvIrS9jmLdclFJEcjZG3mLVDxXk9hAEAQBAEAQBAEAQBAEBOaN5D0WyMizbzu0R94/wDMP0V3Yu69VOe0l3ydELpYeSlkAkWoA5ARtu5ICia0fZPqP1Ch27uV9Cw0X/ZTovsQES59d51fgaL0AhgIC3+zb7+X8ofuVjo363dCn0z3bevwWDWbWU2R7GbLa32l1b9ylDSn2SplqteoVEu1r5/6UrrFYMS1VvUp5V+UIqL2gtqL9nLW+JbIHkDyBaK5qOmk9v8Ak37/AOkJbtCrT/F+3p/tSw6fsEdpsrhwJuF8TvEOpVpHkfHyKm2iJs0S5oV1kmdZ5k60VD5GCucQ7A67Jo6eUViikkGLWkt9K8lsZE9/0oqmmSeOPY9yJ6mlqscsRpLHJHXlfaW19Ceaw9jmLRyKh6jlZIlWKi9FPBeT2dFksM0v3UcklOdxrnAepHAL0yNz/pRVNckscf1uROqntPoe1MF50EwA5m44gepHJe3QSt2q1cjw21QuWiPTM4VpJBvBC97rrGue48gwFzj8AvSIrloiVPLnNalXLRPM6LXou0RNvSQysGLmuDR6nkF6fDIxKuaqGuO0RSLRjkVep9OH/Df+i/8AUr9P6/8A5+Dll/t/+/k+TBc4deFkwfUNQ/4CP8Un73K90f3CdV9zltK/2V6J7DXazCWwvcOOzLZG+g4OP+UuS3MvwKqeG399BoyTV2lEXx2fvqULVqybW2Qs8NoHO/Cz3j+lPiqizMvytTz9tp0Ftk1cD3eVM9h9cvCtPEAE+hrT9CukqcfTZU+W67/x8vpH/wCNq5+3d+709jqtGf1W+vupCRsLiGtBcTyDQST6AKKiVWiE9VREqp3O0JbAL27z0/A6uVKrbh5aVurkR0tcCrS+mZHkUNDwI4EHgQcFqJB6QwPfW4x76c7jXOp60WUaq7kqeXPa36lROp6Q2CZz9m2KQvpUtDXXgMSKcB5rLY3uW6iLXoeXTRtbeVyU41NbVZZI3XZGPjODwWkjEV5hHMcxaOShlkjHpViovQ3slgml+6ikkpzLGkgHAnkssje/6UVTEk0cf1uRPUxa7DNF97HJHXkXtc0H0PIrD43s+pFQRzRyfQ5F6Kc68mwIAgCAnNG8h6LZGRZt53aI+8f+Yforuxd16qc/pLvk6IXOw8lLK8kmoA5ARtu5ICia0fZPqP1Ch27uV9Cw0X/ZTovsQES59d51fgaL0AhgIC3+zb7+X8ofuVjo363dCn0z3bevwWLWTVre3sftdncaW0u361Na8wptpsmuVFrShW2K34ZqpdrXzIuH2fx1F+d7h4hrQwnyrUrQmjG12uJTtNPp/ixMyW1m0xFZrO6MEbRzLsTBxIqKBxHg0fRSLVO2KO6m/wAEIlisr55Ucu6tVX98Siap6JFptIY77DG35PMAgBtfMkfCqqLJAkslF3JtUv7faVgiVyb12IXfWPWFliDI2Rhzi33Wg3GMYOFeAyAwKtbTaks6I1qbSisdidalVznUTjvVVN9DaUh0hA9kkYFKCRhN4cfsuafgfMEfFZgmZamKjk6oYtNnksUiK13RT59b9HNhtbrPI66xsgBfQkiI0IdQDndOappIkZKrHLsrv8v+HRRTrLAkjU2qm7z/AOl3tetFjs9naLNclpRrI2G7dHi51RX6klWr7ZFFGiR7fIoo9H2ieVVmqniqntqvrPvbnsdGI3MaHe6680itMBQ8l6sls16q1UoqHi3aPwzUcjqopU9fLGyK11YA0SRh5A4C/VwcafAZlV9vYjJap4pUt9FSukgo7wWnsXPQWjorHZbzqNcI787/ABqBUj0HgP5q0s8TYIqrwqqlJap32qaibq0an7xIRmvrHSXXwUicaEl15waeFXNpQ+YrmoiaSRXUc3/H98CcuhnNbVr/APL98S0aRY1tkla0ANbZ3hoHINDCAArCRESNUTh8FVCqrO1V33k9z46FzJ2gWTB9Q1D/AICP8Un73K90f3CdV9zltK/2V6J7HroKUT2aWN3G7LPC/wDDfdQf5XBe4HJLG5q8XIuf4PFqasMzXpwa5Mk+UK77PdHltone4cYRsv8AGXe9+z5qDo6JUe5V8Nnr4+xZaXmRYmNTx2+nh7lm0Za9pa7WPCIxMHwa5x+bnZKwifelenCifYq547kEa8ar9/wUPXcf7wlpx4R08/caqe3d+709i/0Z/Vb6+6l20PoyGw2YyPpeDL07+ZJ53R5DkB4/FWkMLLNHeXf4qUdptElsmut3VoiENFr+NpR0BbHXmHVeB1XaUPpXNRk0n/ltbs67Sa7Qq3Nj9vTYSGt+hY7RAZ4wNoxl9rm/2rAK3Tjw5f8A1brZZ2yMvt3p90/dxH0fa3Qyat30qtOi/u8h/Zp95P8Agj/VyjaM+t3RPkmaa+hnVfgsumNL2axm+8OL5zxEYBe4MAFTUgAD6nzU6aeOBarvXgVlns01qS63c3ju2lYtkrNJaQiYwu2TI6uqC11Ob/iSWN+FVAeqWudET6UT/vwhaxtdYLK5zvqVf+fKli0/pqKwxRsZGCXVEbG+41rW0qSaeY9VNtFobZmojU6IVtksj7Y9XOd1U10BpuK3xyRyRgEAX2E32uYeRBp5fDgsWe0NtLVa5OqGbXZH2NzXNd0XzKDrDo3d7S+IVLRRzK87juIy4j4KotEWqkVuXQ6CyT6+FH+Pj1I1aSSEAQE5o3kPRbIyLNvO7RH3j/zD9Fd2LuvVTn9Jd8nRC52HkpZXkk1AHICNt3JAUTWj7J9R+oUO3dyvoWGi/wCynRfYgIlz67zq/A0XoBDAQFv9m338v5Q/crHRv1u6FPpnu29fg7de9KWiGWIRSOjBjJIbShIPPiFtt80kbmoxabDRoqzxSscr212khqhrBvTDHLTasHHgAJGcr1MfAjzGK3WO1a1Lrt6fdP3eR9IWLDuR7PpX7L+7it66auiB23iB2cjveHPZvPn0n5H1Cg22ypEt9u5fspZ6NtyzJq3/AFJu80/KHV7NSNrOPEsZT0BdX9QtmjPrd0T5NOmq3GdV+CY1lt+j45g20wGR5jBa641/uVdQVJxrmpNpks7X0kbVacCHYobU+NVhfRK8fE5LDrNo2K86GCSOtL5ZG0A0rSpDvVeI7XZmVVjadENstgtclEkei8Kr/or+lpW2+3s2FRtQ1tXgAgtqXOoD4AfJQpnJaZ0ueOwsbO1bHZl1nhVdn7xLRLofRlijD5mh5JoDKDK57udAzl8lPdBZrO2r0r12/Yq22q2Wt92NadNlPXedWr+n4J5HQwROjaxl6pDGN5gUDWnz+S2We1MkcrWJRENNrsUkLUfI6qqtCs+0U/0uOvIQNr6X31UDSS/ypXh8qWmh0/gWnH4Qt+tIJsM9P+UTwwHE/IFWdr2wO6FNYdlpZXifJCucXcdgh9dma4WBwdzFkId6iPiukVFSHbw+Djmqi2lFTde+T5GFzZ2IWTB9Q1D/AICP8Un73K90f3CdV9zltK/2V6J7EZqNav6Ta4T4yOkb8Hlrj82rRYH/AMj2+ar9/wDhK0pH/FE/yp9tnyWezWSOHbPHASSOlf5G6Af2k/FT2MbHeVPFalU+R0t1q+CUTMrPs9nMjrVIeckjXn1cXn6qDo516+7itc6lppdiMSNqeCKmVCG1mcBpap5CWAn0AZVRbV/a9W/BNsSKthonB3yW7XdpNglp4XCfwh7SVY29FWB1PL3KfRiolpbXz9lPlioDrD65ocXLDFf4XbM29XwAYOB+C6OBLsDa8E9jjrT/AJWl13xcvuVT2Zfbn/Lj/VyrtFfU7onyW+m/pZ1X4Ob2iu/pjRhA35uevGkV/mp5J7qbNDp/Aq//AEvshv7OSN6ePEwGnpfZX6LOjVTWr0+UMaYRdQnX4Uses9tsMb2C1QmUlpuG414AB4ipPop1qkgaqJK2vDZUrbDFaXtXUupx20I+w6x6MiJdDBIw0o4xxtHDA0d5LTHarMzaxtOiEiWw2yRESR6L1X/RXNbdKxWmdskQcAIg03wAahzj4E4qFa5mTPRzeFCz0fZn2eNWP41+yEIopNCAICc0byHotkZFm3ndoj7x/wCYforuxd16qc/pLvk6IXOw8lLK8kmoA5ARtu5ICia0fZPqP1Ch27uV9Cw0X/ZTovsQES59d51fgaL0AhgIC1ez60xsmlL3sYDEAC9waCb3LirDRzka91V8Cq0uxz42o1FXb4dDPtCtMb5Yix7HgRuqWODgDe8k0i5rntotdhjREbmMdeRU2+JXNH2x8MrZYzRzDUYEeLT5EKDG90bkc3ehZSxNlYrHblPp40nY7TZ6PkjDZmUc172Ne3EcTwIPj5VV/rYpo9qpRfM5bD2izy1a1aou9E2FB0dazYbYSCJWtJa8xkESROoagjhXkaYiip43rZ5q7/Dqh0M0SWuz03Ku1K+C/uz7l6tdnsOkI2m+HXfsujcGysrzBB5ehCtXshtTU25b0KCN9psTl2U67l/fIRGxaOhLb9KmpBIdNI6mA+GACJqbKylfyoclot0lafhP3Motm04e0BbHj+0Jc0cbsZbcoMSGn4kKpbaP59avH7bi/fZEwqwN4fetfc+gW6y2S3QgF4e0G810bgHNNKf6BVzIyK0s37OKHOxST2ORdlF4KhwaLl0dY5dhG8F8lb73ODqXQSA5/IePALTEtngdcau1d6/kkTttdpZrHpsTclOPBN/qQHtBdG+aKRj45AYyw3HNdQtNRWh8bxyUTSN1z0ci12ULDRCObG5rkVNtdqfvAm9U9YopYWwTOa2Rjbnv0DZWgUBFeZpzClWS1NexGPXbu6kG32F8ciyRpsXbs8P3wMWjV7RlmfvEji0NN5sb3BzKjiA1tLzvTisOstmhW+5dnD92qZZbbZO3VtTbxptz3J1JC06Zs8tje4SRtMlncQxz2XwXMNGkV5+S3rOx8SrXenwRmWWWOdEurscm2i03nyoLnjrQsmD6PqVboWWJjXyxMIdJUOe1pFXmnAlXVgka2FEVU8fc5rScMjrQqtaqps8PIq+gLc2LSV8uAY+WRrjUXbryaGuFbqr7PIjLRXwqv3La1wrJZLtNqIi5fqlw1p0xCLHMGSxvc9twBj2ud75uk0BwJVpa52pC6i79mZS2GyyLaG3mqiJt3cCD9ndrjjE+0exlTHS+5ra/brSp9FE0c9rb1Vpu+SfpiN71ZdRV37vQhtcpWvtsrmua9pDKFpDgfcaOYUW2qjpnU8vYm6OarbO1FSi7fcterutEE0QhtDmtfduu2lAyZtKVqeFT4gqxs1sY9tyTfu2+JUWzR8kT78SVTfs3p+8T1j1RsDX7U3i0Goa94MQ+pHkSspYYEW94cK7Dyuk7U5tzx4om399CO1w1ojMbrPZ3B98Ule3i0M8WNPiT4nlT5abZbGq1Y2LWu9STo7R7keksqUpuTz4nH7PLTHHJOZHsZVjKX3NbXi7lVatHORrnVWmxPk3aXjc9rLqKu1d3ocuvs7H2sOY5rxsGirCHCt5/CoWu3uR01U4J7qbdFMcyCjkptX2QidDaRdZ52TNFbp94dTDwc3/XiAo8MqxPR6Ey0wJPGrF8fc+jTCw6RiAvB1OLaENmjJ5ih+vA09Fdu1Nqbv8AyhzTcTYnrs/C/uZiyw2LR0Tvfu3uLi8h0slOQAHPmeAHisMbDZWrt/KmXvtFuemzLch8703pI2id8xF0O4MHSwch6/UlU00qyvV6nR2aBIIkYnr1OFajeEAQE5o3kPRbIyLNvO7RH3j/AMw/RXdi7r1U5/SXfJ0Qudh5KWV5JNQByAjrdyQFD1p+wfUfqFEt3cr6Fhov+ynRfYgIlzy7zq/A0XoBDAQBYAQBZAWDIWTBggLFEUzUAIiUFTKyYMFowCxRDNVMoAgCAwAEoiCplAFkwEAWDIWTAWDIQBZMBAYujALzdQzVTK9GAsGQhgLIMELCoimagAJREFTKyYCAIAgJzRvIei2RkWbed+iPvH/mH6K7sXdeqnPaS75OiFzsPJSyASLUAKA4LaOCAoetgoz/ABCuah27uV9Cx0XTEp0Ur0SoFOq8DRZMBAEAQBAEAQBAEAQBAEAQBAEAQBAEAQBAEAQBAEAQBAEAQBAEAQBAEAQBAEBOaPNAPRbIyLNvJHQgq5xxkd8uH0V1Ye69V9zntJd/TyQudiHBTCAd4QAoDktTeCAqOsdjL43NHMjh6jiPmtUzL8atN9ml1UrX8F+xSInLmnIdm1ano5viPksAxcOByKyKi4cDkUFRcOByKCouHA5FBUXDgcigqLhwORQVFw4HIoKi4cDkUFRcOByKCouHA5FBUXDgcigqLhwORQVFw4HIoKi4cDkUFRcOByKCouHA5FBUXDgcigqLhwORQVFw4HIoKi4cDkUFRcOByKCouHA5FBUXDgcigqLhwORQVFw4HIoKi4cDkUFRcOByKCouHA5FBUXDgcigqLhwORQVFw4HIoKi4cDkUFRcOByKCouHA5FBU3iiJPHh6rAqSG3DG+fgMSvaLwNCtqu0sWr9lLWNB58z6nifmujgj1caN4HJ2mXWzOfxXZ08C22VvBbTQdYQGUB5StQENpCzVCAomnNEPa8yMBIPFwHMHEBVdssiqt9nqhe6O0g1GpFIvRfyQ7ZFUq0vkU22ixdM1G0S6KjaJdFRtEuio2iXRUbRLoqNol0VG0S6KjaJdFRtEuio2iXRUbRLoqNol0VG0S6KjaJdFRtEuio2iXRUbRLoqNol0VG0S6KjaJdFRtEuio2iXRUbRLoqNol0VG0S6KjaJdFRtEuio2iXRUbRLoqNol0VG0S6KjaJdFRtEuipkyJdMVJjQ2i3vcHvBAHFoPMnEhWtisaousf6IUWktINVqxRL1X4T5Lxo+zUCtihJmJqA9UAQGCEBzTRVQEZarCCgIa1aCjcaljScSBXNa3RMctXNRTcy0SsSjXKnqch1dj6G5Lzh4uVMj3jJ+dczXu7H0NyTDxcqZDGT865ju7H0NyTDxcqZDGT865ju7H0NyTDxcqZDGT865ju7H0NyTDxcqZDGT865ju7H0NyTDxcqZDGT865ju7H0NyTDxcqZDGT865ju7H0NyTDxcqZDGT865ju7H0NyTDxcqZDGT865ju7H0NyTDxcqZDGT865ju7H0NyTDxcqZDGT865ju7H0NyTDxcqZDGT865ju7H0NyTDxcqZDGT865ju7H0NyTDxcqZDGT865ju7H0NyTDxcqZDGT865ju7H0NyTDxcqZDGT865ju7H0NyTDxcqZDGT865ju7H0NyTDxcqZDGT865ju7H0NyTDxcqZDGT865ju7H0NyTDxcqZDGT865ju7H0NyTDxcqZDGT865ju7H0NyTDxcqZDGT865ju7H0NyTDxcqZDGT865ju7H0NyTDxcqZDGT865ju7H0NyTDxcqZDGT865ju7H0NyTDxcqZDGT865ju7H0NyTDxcqZDGT865ju7H0NyTDxcqZDGT865ju7H0NyTDxcqZDGT865ju7H0NyTDxcqZDGT865ju7H0NyTDxcqZDGT865ju7H0NyTDxcqZDGT865ju7H0NyTDxcqZDGT865mw1dj6G5Jh4uVMhjJ+dczrsugo2moY0HEAVzXpsTGrVrUQ8PtEr0o5yqnUmbLYQFsNJKQxUQHQAgMoAgCAwQgPN0aA8nWcIDQ2YIBuoQDdQgG6hAN1CAbqEA3UIBuoQDdQgG6hAN1CAbqEA3UIBuoQDdQgG6hAN1CAbqEA3UIBuoQDdQgG6hAN1CAbqEA3UIBuoQDdQgG6hAN1CAbqEA3UIBuoQDdQgAswQG7bOEB6tjQHoAgMoAgCAIAgCAxRAKIBRAKIBRAKIBRAKIBRAKIBRAKIBRAKIBRAKIBRAKIBRAKIBRAKIBRAKIBRAKIBRAKIBRAKIBRAKIBRAKIBRAKIDKAIAgCA//2Q==
Announcements
Call for Articles Submission

Call for articles for Volume 4, No. 1, February 2019 (Submission deadline: 30 November 2018)

Call for articles for Volume 4, No. 2, August 2019 (Submission deadline: 31 May 2019)

The submitted article will be evaluated by reviewers for its contribution, originality, relevance, and presentation. The Editor shall then inform the author on the results of the review as soon as possible, possibly in 4 or 6 weeks.

Posted: 2018-08-18
Vol 3, No 2 (2018): August 2018
Table of Contents
| | | |
| --- | --- | --- |
| | Cao Thi Hong Phuong | 101-109 |
| | | |
| --- | --- | --- |
| | Mohd Faisal Farish bin Ishak, Abdul Ghani Abu | 110-124 |
| | | |
| --- | --- | --- |
| | Luluk Iswati, Arum Octaviani Hadimulyono | 125-134 |
| | | |
| --- | --- | --- |
| | Lilies Youlia Friatin, Widiyaningsih Widiyaningsih | 135-148 |
| | | |
| --- | --- | --- |
| | A'thi Fauzani Wisudawati, Novi Ika Setyani | 149-160 |
| | | |
| --- | --- | --- |
| | Sugeng Purwanto, Idha Nurhamidah | 161-172 |
| | | |
| --- | --- | --- |
| | Suci Miasari, Safnil Arsyad, Arono Arono | 173-187 |
| | | |
| --- | --- | --- |
| | Astiana Ajeng Rahadini, Rahmat Rahmat | 188-195 |