Journal Information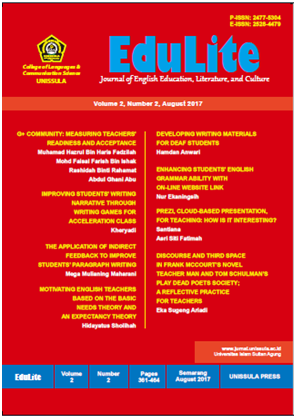 ---



---
EduLite Journal of English Education, Literature and Culture is a high-quality open access peer-reviewed research journal which publishes meaningful manuscripts within the fields of teaching English as a first, second or foreign language, English language teaching and learning, English language teachers' training and education, English language and literary studies, literatures, as well as cultures and language (more on focus & scope). Intentionally, this journal hopefully provides some valuable references and guidance to enhance people's knowledge and understanding on English language teaching education, literary works, and their implications to modern-into-postmodern cultures, both in Indonesia and other countries in the world. At last, the journal is really expected to have positive significant impacts on individuals, society, and the nations. It is published by College of Languages and Communication Science (former Language Faculty), Universitas Islam Sultan Agung twice a year in February and August. The article submission, as well as the review process, are not subject of any charge (FREE), but the publication fee (ONLY if published). It has been accredited LEVEL 2 or SINTA 2 on 14 January 2019 by Indonesia Ministry of Research, Technology and Higher Education as an achievement for the excellent quality in management and publication. The recognition was published in Director Decree (No. SK: 3/E/KPT/2019) and effective until 2023. This journal also has become a member of CrossRef. Therefore, all articles published by this journal will have unique DOI number.



Organization Partners
EduLite Journal of English Education, Literature and Culture collaborates with Persaudaraan Dosen Republik Indonesia (PDRI).
 This journal has been indexed by:
Vol 8, No 2 (2023): August 2023
Published: 2023-08-27
chrome_reader_mode Table of Contents
To improve the acceptability of Edulite's performance regarding the government's rule and the international standard on journal's template, we have made some changes in the template of article since the publication of Volume 3, Number 2, August 2018.
contact_mail Principal Contact
Chief Editor
Universitas Islam Sultan Agung

EduLite: Journal of English Education, Literature and Culture
Language and Communication Science Faculty, Universitas Islam Sultan Agung
Jl. Raya Kaligawe Km.4, PO BOX 1054/SM Semarang 50112, Indonesia