EduLite Journal of English Education, Literature and Culture is a blind peer review international journal which publishes manuscripts within the fields of teaching English as a first, second or foreign language, English language teaching and learning, English language teachers' training and education, English language and literary studies, literature, and cultures in general (more on focus & scope). It is published by Language and Communication Science Faculty (former Language Faculty), Universitas Islam Sultan Agung twice a year in February and August (P-ISSN: 2477-5304, E-ISSN: 2528-4479); The article submission, as well as the review process, are not subject of any charge (FREE), but the publication fee (ONLY if published). EduLite has been indexed in DOAJ (Directory of Open Access Journals) since 31 July 2017, EBSCO and some credible indexers (more on Abstracting and Indexing)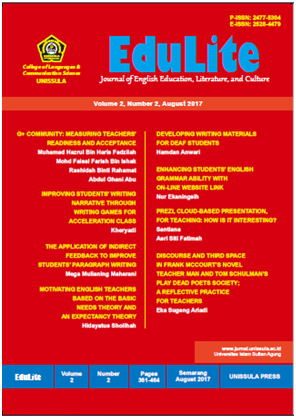 EduLite has been indexed in:
In the aim of improving the quality of the Journal, since 15 August 2018 EduLite Journal officially had made cooperation with Persaudaraan Dosen Republik Indonesia (The association of Lecturers of Indonesia). See The MoU Manuscript.
Submit your precious manuscripts now (in English) via our online system, or submit your papers via email: reviews_edulite@unissula.ac.id (ONLY IF you still got some problems in OJS submission). Download the AUTHOR GUIDELINE and the ARTICLE TEMPLATE here.
Registration and login are required to submit items online and to check the status of current submissions.
Already have a Username/Password for EduLite?
Need a Username/Password?
Announcements
The Change of Article Template

To improve the acceptability of Edulite's performance regarding the government's rule and the international standard on journal's template, we have made some changes in the template of article since the publication of Volume 3, Number 2, August 2018.

Posted: 2018-11-05
More...

Call for Articles Submission

Call for articles for Volume 4, No. 1, February 2019 (Submission deadline: 30 November 2018)

Call for articles for Volume 4, No. 2, August 2019 (Submission deadline: 31 May 2019)

The submitted article will be evaluated by reviewers for its contribution, originality, relevance, and presentation. The Editor shall then inform the author on the results of the review as soon as possible, possibly in 6 to 8 weeks.

Posted: 2018-08-18
Vol 4, No 1 (2019): February 2019
Table of Contents
| | | |
| --- | --- | --- |
| | Yen Hoang Phuong, Phuong Quyen Vo | 1-12 |
| | | |
| --- | --- | --- |
| | Juvrianto Chrissunday Jakob, Nihla Afdaliah | 25-34 |
| | | |
| --- | --- | --- |
| | Nyak Mutia Ismail, Moriyanti Moriyanti | 45-54 |
| | | |
| --- | --- | --- |
| | Esi Yulistiana, Sumarlam Sumarlam, Soediro Satoto | 55-64 |
| | | |
| --- | --- | --- |
| | Ratih Dwi Raharto, Riana Permatasari | 65-75 |
| | | |
| --- | --- | --- |
| | Triastama Wiraatmaja | 76-86 |
| | | |
| --- | --- | --- |
| | Nafisa Syahida Rahmadini, Hartono Hartono, Rohmaniyah Rohmaniyah | 87-100 |