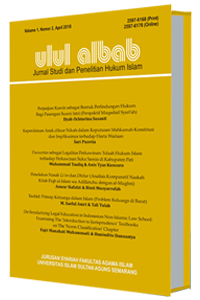 ULUL ALBAB: Jurnal Studi dan Penelitian Hukum Islam is a peer-reviewed journal which is published by Department of Sharia, Faculty of Islamic Studies, Sultan Agung Islamic University in collaboration with Indonesian Islamic Family Law Lecturer Association (ADHKI), it is scientific journal in the field of Islamic Law Studies published in October and April for the developing the scientific ethos.
The editors receive scientific articles in the form of conceptual script or unpublished research results or other scientific publications related to Islamic Law themes which cover Family in Law, Islamic Law, Islamic Jursprudence Studies, Islamic Economy Law, Islamic Political Jurisprudence, Islamic Comparative Law and Islamic Astronomy.
This journal has become a CrossRef Member, therefore, all articles published by ULUL ALBAB: Jurnal Studi dan Penelitian Hukum Islam will have unique DOI number.
Vol 5, No 2 (2022): Vol. 5, No. 2, April 2022
Published: 2022-05-15
chrome_reader_mode Table of Contents
Articles
Ulul Albab: Jurnal Studi dan Penelitian Hukum Islam calls for papers Volume 4 2020. The accapted papers will be published on Number 1, October 2020 & Number 2, April 2021.
contact_mail Principal Contact
Lecturer in Faculty of Islamic Studies Sultan Agung Islamic University (UNISSULA) Semarang - Cetral of Java - Indonesia

Departement of Syariah
Faculty of Islamic Studies
Sultan Agung Islamic University
Kaligawe Street, KM 4, Semarang, 50112