Journal Information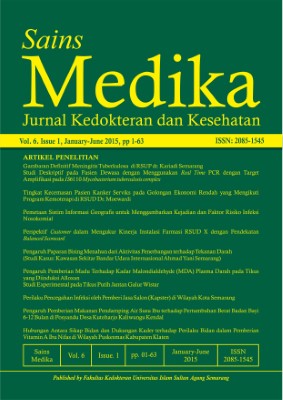 | | |
| --- | --- |
| Journal Title | Sains Medika : Jurnal Kedokteran dan Kesehatan |
| Initial | SainsMed |
| Abbreviation | Sains Med. J. Kedokt. dan Kesehat. |
| Frequency | 2 issues per year (June and December) |
| DOI Prefix  | 10.30659/sainsmed |
| ISSN | 2339-093X (online); 2085-1545 (printed) |
| Subject Area | Biomedical Sciences, Public Health, Clinical Sciences, & Medical Education |
| Editor-in-Chief | Dr. Suparmi, S.Si, M.Si (ERT)           |
| Citation Analysis | Dimensions |  SINTA 3 |  Google Scholar l  More... |
Sains Medika : Jurnal Kedokteran dan Kesehatan is a peer-reviewed journal published by Fakultas Kedokteran Universitas Islam Sultan Agung Semarang.  Sains Medika: Jurnal Kedokteran dan Kesehatan consist manuscripts which correlate with medical and health and is not published in any other publisher(s).
The editorial staffs receive manuscripts from  medical doctors, health professionals and other professionals related to medicine and health from all over Indonesia and overseas.  Sains Medika: Jurnal Kedokteran dan Kesehatan does not levy any submission fee or page charges to any author. We also provide other author benefits, such as free PDFs.
Manuscripts are written in good mannered English. Manuscripts must be typed on  A4 paper (210 x 297mm), font Calisto MT Size 10, 1,5 spacing using Microsoft Word. Full manuscript must be submitted through  Online Submission in  Open Journal System (OJS).
It has been accredited  LEVEL 3 or SINTA 3 on 13 December 2019 by Indonesia Ministry of Research, Technology and Higher Education (Ristekdikti) of The Republic of Indonesia as an achievement for the Peer-reviewed journal which has excellent quality in management and publication. The recognition was published in Director Decree  (No. SK: 36/E/KPT/2019)  and effective until 2024. This journal also has become a member of CrossRef. Therefore, all articles published by this journal will have unique DOI number.
Vol 13, No 1 (2022)
Published: 2022-06-02
chrome_reader_mode Table of Contents
Original Research Articles
Review Articles
No announcements have been published.
contact_mail Principal Contact
Fakultas Kedokteran, Universitas Islam Sultan Agung