MEDALI Jurnal : Media Dental Intelektual is a journal that aims to share information about research that has been carried out in the field of dentistry, especially in the Sultan Agung Islamic University (UNISSULA). The publication of this journal will open up opportunities for academics to express various ideas related to the results of research and development in the field of dentistry.
MEDALI Journal will be published periodically twice a year in March and September. This journal is published to accommodate research that has been carried out by students of the Faculty of Dentistry UNISSULA
We hope that this journal can be maintained in quality, quantity and continuity of publication on a regular basis and can provide many benefits for all of us in exploring and developing potential, especially in the field of dentistry, so that it is useful as a reference for various parties.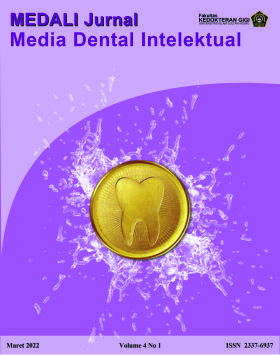 Mailing Address
Faculty of Dentistry, Universitas Islam Sultan Agung, Indonesia
Jl. Kaligawe Raya KM.4, Terboyo Kulon, Genuk, Semarang, Central Java, Indonesia, 50112
Phone: +62-24-6583584 Ext.592,  Fax.: +62-24-6583584
Email: medalijurnal@unissula.ac.id

Website: http://jurnal.unissula.ac.id/index.php/medali
Announcements
No announcements have been published.