Odonto : Dental Journal is an open access, scientific and peer-reviewed journal published by Faculty of Dentistry, Universitas Islam Sultan Agung twice a year in July and December (P-ISSN: 2354-5992, E-ISSN: 2460-4119 ).
This journal is containing all dentistry topic. This Journal is in cooperation with Indonesian Dental Association (PDGI) Semarang. This journal has been accredited SINTA 2 by Indonesia Ministry of Research, Technology and Higher Education (Ristekdikti) of The Republic of Indonesia.
This journal also has become a member of CrossRef. Therefore, all articles published by this journal will have unique DOI number.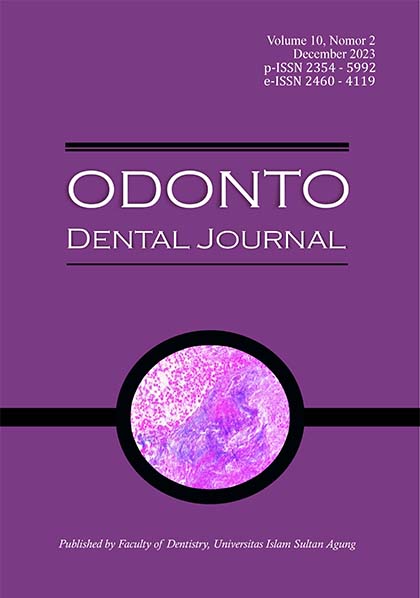 Odonto : Dental Journal
has been indexed in:
Submit your precious manuscripts now via our online system, or submit your papers via email : odontodentaljournal@unissula.ac.id (ONLY IF you still got some problems in OJS submission).
Download the AUTHOR GUIDELINE and the ARTICLE TEMPLATE here.
Registration and login are required to submit items online and to check the status of current submissions.
Already have a Username/Password for Odonto : Dental Journal?
Need a Username/Password?
Announcements
No announcements have been published.
Vol 10, No 1 (2023): July 2023
Table of Contents
Articles