SCOPE
Journal of Advanced Civil & Environmental Engineering invites and welcomes the submission of advanced research and review papers, innovations and developed selected conference papers that have never been previously publicized. This journal provides publications and a forum to the academics, scholars and advanced level students for exchanging significant information and productive ideas associated with all these disciplines.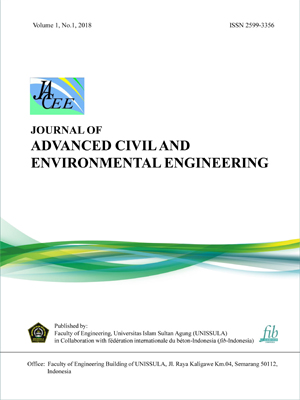 The relevant topics of the latest progressive findings or developments will be taken seriously into consideration, the topics covered by the journals include:
Materials
Structural Engineering
Geotechnic
Water Resources / hydrology
Construction Management
Transport System Engineering
Highway engineering
Environmental Science and Engineering
OBJECTIVE
Dissemination of research results are in the form of researches, studies, new discoveries of advanced civil and environmental engineering. 
Articles In Press

All Accepted manuscripts/articles are pre-published temporarily in "Articles In Press" and are not assigned to volume/issue number yet. That's mean all articles in this pre-issue are in waiting for formal publishing in the next issue.
Table of Contents
Civil Engineering