JACEE (Journal of Advanced Civil and Environmental Engineering)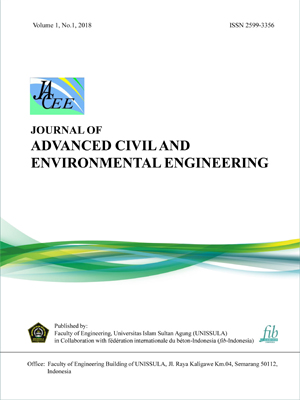 JACEE (Journal of Advanced Civil and Environmental Engineering) was established to meet the need for dissemination of research results, critical reviews, and quality analysis. JACEE invites and welcomes the submission of advanced research and review papers, innovations and developed selected conference papers that have never been previously publicized. This journal provides publications and a forum to the academics, scholars and advanced level students for exchanging significant information and productive ideas associated with all these disciplines. It is published by Fakultas Teknik Universitas Islam Sultan Agung, Indonesia, in collaboration with Fédération Internationale du Béton twice a year in April and October.
The relevant topics of the latest progressive findings or developments will be taken seriously into consideration, the topics covered by the journals include:
✅ Materials
✅ Structural Engineering
✅ Geotechnic
✅ Water Resources / hydrology
✅ Construction Management
✅ Transport System Engineering
✅ Highway engineering
✅ Environmental Science and Engineering
OBJECTIVE
Dissemination of research results are in the form of researches, studies, new discoveries of advanced civil and environmental engineering. 
Vol 6, No 1 (2023): April
Published: 2023-05-17
chrome_reader_mode Table of Contents
Civil Engineering
Environmental Engineering
Announcement is disabled for this moment.
contact_mail Principal Contact
Prof. Dr.
Civil Engineering Department, Universitas Islam Sultan Agung, Semarang, Indonesia

JACEE : JOURNAL OF ADVANCED CIVIL AND ENVIRONMENTAL ENGINEERING
Engineering Faculty, Universitas Islam Sultan Agung
Jl Raya Kaligawe KM 4 Semarang