Journal Information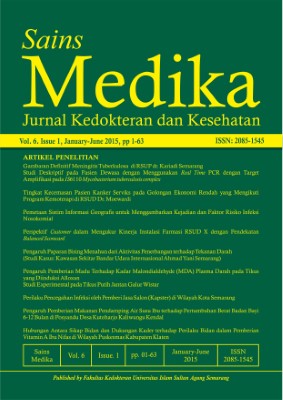 | | |
| --- | --- |
| Journal Title | Sains Medika : Jurnal Kedokteran dan Kesehatan |
| Initial | SainsMed |
| Abbreviation | Sains Med. J. Kedokt. dan Kesehat. |
| Frequency | 2 issues per year (June and December) |
| DOI Prefix | 10.30659/sainsmed |
| ISSN | 2339-093X (online); 2085-1545 (printed) |
| Subject Area | Biomedical Sciences, Public Health, Clinical Sciences, & Medical Education |
| Editor-in-Chief | Dr. Suparmi, S.Si, M.Si (ERT) |
| Citation Analysis | Dimensions | SINTA 3 | Google Scholar l More... |
Sains Medika : Jurnal Kedokteran dan Kesehatan is a peer-reviewed journal published by Faculty of Medicine, Universitas Islam Sultan Agung, Semarang. It considers articles on medical and health sciences. It has been accredited LEVEL 3 or SINTA 3 by Indonesia Ministry of Research, Technology and Higher Education (Ristekdikti) of The Republic of Indonesia based on the Decree of the Director (No. SK: 36/E/KPT/2019). This accreditation is valid from Volume 9 Nomor 2 2019 to volume 14 Nomor 1 2024. This journal is indexed by DOAJ - Directory of Open Access Journals, Dimensions, ROAD ISSN, Google Scholar, SINTA - Science and Technology Index, Crossref, PKP Index, Hinari, Researchbib, BASE, Directory of Research Journals Indexing, Direktori Jurnal Ilmiah Indonesia, WorldCat.
Vol 14, No 1 (2023)
Published: 2023-05-10
chrome_reader_mode Table of Contents
Original Research Articles
Review Articles
Case Report
No announcements have been published.
contact_mail Principal Contact
Department of Biology, Faculty of Medicine, Faculty of Medicine, Universitas Islam Sultan Agung, Indonesia