ODONTO : Dental Journal [P-ISSN 2354-5992 | E-ISSN 2460-4119 | DOI 10.30659/odj] is a peer-reviewed scientific publication containing research article, case report and review article in dentistry area. This journal is published by the Faculty of Dentistry Universitas Islam Sultan Agung twice a year. This journal gives a good opportunities for dental researchers, lecturers, students, practitioners that came from Indonesia and abroad to express the idea about technology and update in dentistry. The aim of this journal is to develop and improve knowledge especially in dentistry area. ODONTO : Dental Journal has been indexed DOAJ (Directory of Open Access Journals) since 13 Jul 2018. Accredited Rank 3 by Republic of Indonesia Ministry of Research, Technology and Higher Education, Number: 21 / E / KPT / 2018, on July 9th, 2018 - July 9th, 2020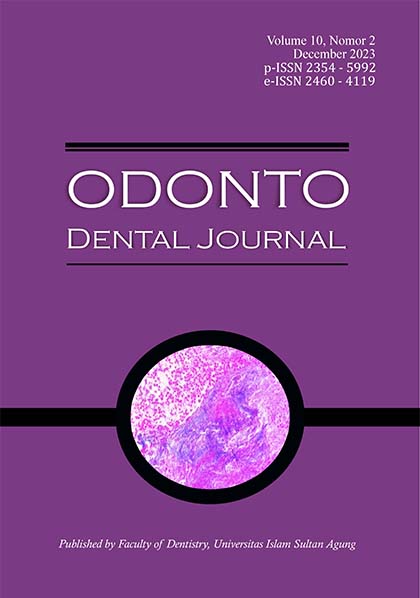 ODONTO : Dental Journal
has been indexed in:

Submit
your precious manuscripts now via our online system, or submit your papers via email: odontodentaljournal@unissula.ac.id (ONLY IF you still got some problems in OJS submission). Download the Author Guideline and the ODONTO : Dental Journal format and style (template)
here
.
Registration and login are required to submit items online and to check the status of current submissions.
Already have a Username/Password for
ODONTO : Dental Journal
?
Go to Login
Need a Username/Password?
Go to Registration
Announcements
No announcements have been published.
Vol 6, No 1 (2019): July 2019
Table of Contents
Articles
Kusuma Arbianti, Meiliana Hanirizqy

4 Times | PDF Download : 8 Times

1-7
indah lestari vidyahayati, Rinaldi Budi Utomo, Indah Titien Soeprihati

7 Times | PDF Download : 3 Times

8-13
Maria Tanumihadja, Indrya Kirana Mattulada, Nurhayaty Natsir, Lukman Muslimin

7 Times | PDF Download : 9 Times

14-20
Ratna Indriyanti, Faizal Hasan, Meirina Gartika

4 Times | PDF Download : 6 Times

21-28
Atiek Amalia Ahsanti, Arlina Nurhapsari, M. Dian Firdausy

1 Times | PDF Download : 4 Times

29-33
Shanty Chairani, Sri W Rais, Rani Purba, Nabilah Nazalika

2 Times | PDF Download : 1 Times

34-39
Moh. Yusuf, Syuhada Setiawan, Andina Rizkia Putri Kusuma

6 Times | PDF Download : 5 Times

40-44
Rina Kartika Sari, Diah Savitri Ernawati, Bagus Soebadi

12 Times | PDF Download : 2 Times

45-51
Yayun Siti Rochmah

3 Times | PDF Download : 4 Times

52-55
Rosa Pratiwi, Ernie Maduratna Setiawatie

1 Times | PDF Download : 1 Times

56-61
Mega Rafika, Rian Setiadhi

3 Times | PDF Download : 1 Times

62-67