Jurnal Ilmiah Komunikasi Makna (E-ISSN: 2337-4616, P-ISSN: 2087-2461) is a Scientific Journal published by the Department of Communication Science, Faculty of Language and Communication Science, Universitas Islam Sultan Agung (UNISSULA) Semarang. Jurnal Ilmiah Komunikasi Makna is intended to the national and international scholarly community. The aim of this journal is to publish high-quality articles dedicated to all aspects of the latest outstanding developments in the field of communication. Articles published are the results of research, bringing the new sights (scope) on Cultural Studies, Public Relations, and Media. Meanwhile, submitted papers are evaluated by double blind peer review for contribution, originality and relevance. Jurnal Ilmiah Komunikasi Makna is published twice a year in February and August (Regular Issues). It was first published in 2010.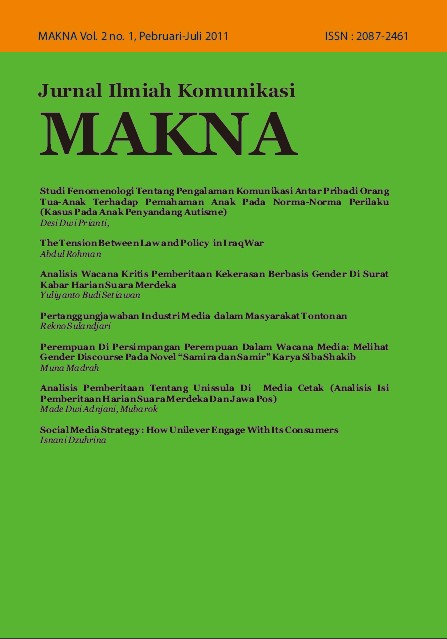 Jurnal Ilmiah Komunikasi Makna has been indexed in:
In the aim of improving the quality of the Journal, since 27 February 2020 Jurnal Ilmiah Komunikasi Makna officially had made cooperation with Asosiasi Penerbit Jurnal Ilmu Komunikasi Indonesia (APJIKI). See The MoU Manuscript.
Announcements
No announcements have been published.
Vol 11, No 2 (2023): Agustus 2023
Table of Contents
Articles