NURSCOPE: Jurnal Penelitian dan Pemikiran Ilmiah Keperawatan ISSN 2476-8987 (online) is published two times a year (June and December)
Nurscope : Jurnal penelitian dan pemikiran ilmiah keperawatan indirectly acknowledged as a work of scholarly authors in the field of nursing. Articles covering sub areas of basic nursing, adult nursing, emergency nursing, critical nursing, child nursing, maternity nursing, mental nursing, gerontik nursing, family nursing, community nursing, nursing management, and nursing education. Types of articles received by the editors are the results of research.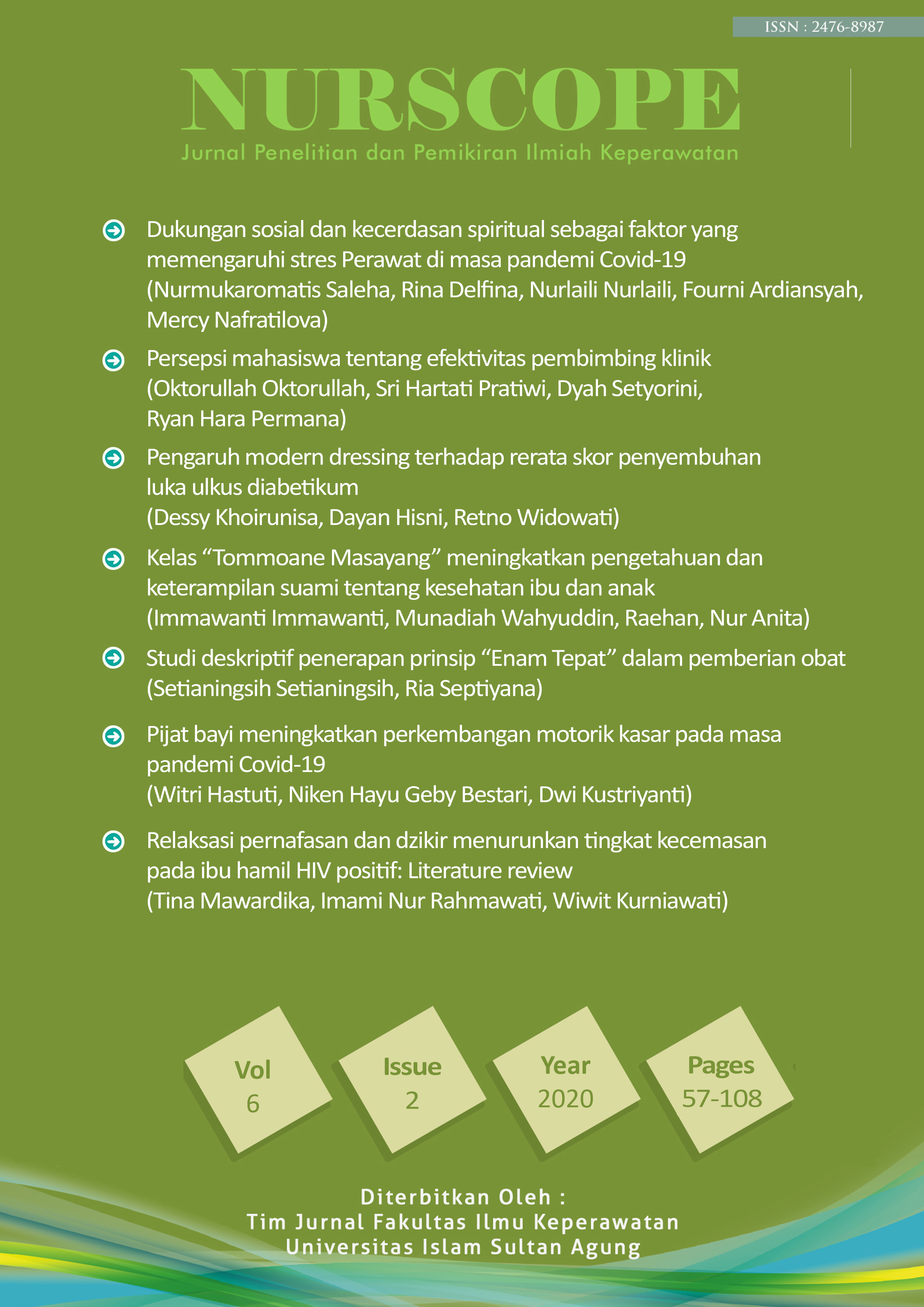 Announcements
No announcements have been published.
Vol 4, No 1 (2018): Januari-Juni 2018
Table of Contents
Tinjauan Pustaka / Review Article
| | | |
| --- | --- | --- |
| | Putri Damarsanti, Rina Anggraini, Setianingsih Setianingsih | 1-9 |
| | | |
| --- | --- | --- |
| | Dyah Dwi Astuti, Yeni Rustina, Fajar Tri Waluyanti | 10-17 |
| | | |
| --- | --- | --- |
| | Fitria Endah Janitra, Dinda Sandika | 18-22 |
| | | |
| --- | --- | --- |
| | Murti Mandawati, Muhammad Jauhar Fu'adi, Jaelan Jaelan | 23-29 |
| | | |
| --- | --- | --- |
| | Hernandia Distinarista | 30-40 |
| | | |
| --- | --- | --- |
| | Arifin Dwi Atmaja, MC Inge Hartini, Luky Dwi Antoro | 41-54 |
| | | |
| --- | --- | --- |
| | Mohammad Arifin Noor | 55-60 |